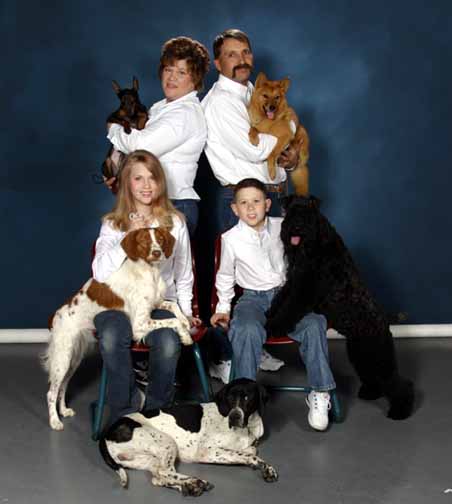 Our Family has been in Dogs for over Twenty Years and we enjoy all sizes, shapes and styles of Dogs. When dogs are shown by us we treat them like they are the most important thing in the world. They lie on our couches, sleep on our beds and have free run of the house, they are family.

We love cuddling and playing with them while we train them to be awesome show dogs with great attitude. We travel to shows through out the United States in our customized mini bus. During the trip we ride, sleep and eat within a few feet of the dogs so that we can monitor their care. We treat all our client dogs as if they are our own.

We are small enough to personalize our service to meet your needs, but large enough to be extremely competitive.
Look around our site and get to know us! Then give us a call we would feel honored if you would entrust your dogs to us.
The Le'fevre Family , D'claire

Show Photos
Casual Photos
Favorite Links:
---
Contact us for more information:
Linda and Jay Le'Fevre
Nici and Steven
phone: 720-935-1985

This site was last updated on March 19, 2005
You are visitor Number...